Alan Smithee o el hombre que nunca existió
¿Qué hace un director norteamericano cuando las tortuosas etapas posteriores a la filmación –a saber: cortes de montaje, retomas, retoques de última hora que estiran o mutilan el guion– convierten a la película en una caricatura de la que se había propuesto realizar? Dispone de tres opciones. La resignación, los pleitos judiciales (a menudo todavía más tortuosos que la posproducción) y el recurso de cargarle el fardo a
Alan Smithee
, el director fantasma que ya estampó su firma al pie de 50 largometrajes.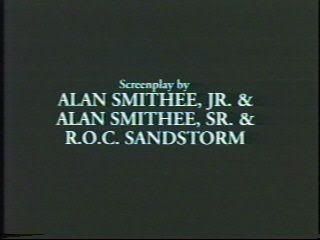 Todo comenzó en 1969, cuando
Robert Totten
y
Don Siegel
decidieron retirar sus nombres de
Death of a Gunfighter
(
Muerte de un pistolero
), insatisfechos con el montaje que dispuso el productor. Al
Directors Guild of America
, el poderoso sindicato que nuclea a los directores estadounidenses, se le ocurrió inventar entonces a
Alan Smithee
, un seudónimo que, de allí en más, serviría para suplantar al director auténtico toda vez que los ejecutivos de los estudios excedieran las ya de por sí generosas facultades de control que les adjudica el
american way of filming
. Las
test screenings
, esas proyecciones previas al estreno ante espectadores rigurosamente seleccionados que casi siempre incucen a estropear los films –por ejemplo trocando los finales con carácter por almibarados happy endings–, y el creciente mercadeo, que deja buena parte de la responsabilidad final en manos de los gerentes de marketing, auguran buen futuro a Smithee. Hoy en día el seudónimo ya es un director ilustre. Figura en toda enciclopedia de cine que se precie, a menudo sin aclaraciones de por medio, con lo que más de un cinéfilo desprevenido lo tiene por un director de carne y hueso. También es, sin duda alguna, el más polifacético de los realizadores norteamericanos:
Dennis Hopper
,
Martin Brest
,
David Lynch
,
John Frankenheimer
y
Arthur Hiller
, entre muchos otros, se han ocultado alguna vez detrás del director apócrifo.
La historia extraoficial explica el nombre de
Alan Smithee
como un anagrama de "
The Alias Men
" (algo así como "los hombres apócrifos"). Las letras coinciden, en efecto, aunque algunas veces el seudónimo fue Allen Smithee, lo que daría por tierra con la teoría. Los del Directors Guild, en cambio, simplemente arguyen que les gustó el nombre porque suena anónimo y a la vez poco común. Las tres décadas del espectral Smithee están signadas por el desprecio de los críticos: la guía del mentado
Leonard Maltin
–por citar a uno, el más famoso– raramente concede más de dos "estrellas" entre cuatro a sus películas. Pero no todas son espinas en la filmografía del fantasma.
Ruby
(1977), de
Curtis Harrington
, narraba la historia de una sordomuda poseída por el espíritu de un finado gángster, que la conducía a masacrar espectadores de films de terror en un autocine suburbano. La compleja trama espeluznó a unos cuantos, sólo que el final, con un epílogo a la Carrie insertado por los productores, hizo que
Harrington
, enojado, decidiera travestirse en
Smithee
.
Backtrack
(1989), del maldito
Dennis Hopper
, no estaba del todo mal, con el propio
Hopper
como el asesino a sueldo que se enamora de una de sus víctimas, nada menos que
Jodie Foster
. Pero el saludable cóctel de road-movie con film noir es rematado por seis minutos virtualmente naïves, ajenos a la voluntad de
Hopper
. El film se puede conseguir en videoclubs locales como
Camino de retorno
, una película de
Alan Smithee
. No así el director's cut. Fue editado por el propio
Hopper
con una duración de 116 minutos –¡45 más que la versión oficial!– y lo satisfizo plenamente... aunque no a
Foster
, que retiró su nombre de los créditos.
John Frankenheimer
siempre había sido él mismo (incluso en la mundialmente despreciada
Contacto en Francia II
), pero en
Riviera
, de 1987, eligió llamarse
Smithee
.
Dune
, la elefantiásica adaptación de la novela de Frank Herbert ambientada en el año 10991, ya era larga en la versión de
David Lynch
(
El hombre elefante, Terciopelo azul)
. Pero cuando los imperativos de la difusión televisiva la convirtieron en un culebrón de 190 minutos,
Lynch
se convirtió en
Smithee
. Lo mismo hizo
Martin Brest
cuando su edulcorada
Perfume de mujer
fue severamente censurada para su exhibición en aviones comerciales. Más recientemente,
The O.J. Simpson Story
, sobre el futbolista americano finalmente absuelto del asesinato de su esposa, obligó a
Jerrold Freedman
a optar por
Smithee
cuando la brutal golpiza precedente al crimen fue tijereteada por la 20th. Century Fox (sí, la productora de
Titanic
) en nombre del respeto a las "tradiciones familiares".
Hay dos casos paradójicos. Uno es el de
Michael Ritchie
, un productor que se refugió en
Smithee
para despegar de los conflictos que él mismo provocó durante el rodaje de
Student Bodies
, un bodrio de 1981. El otro es
Greystoke, la leyenda de Tarzán
, cuyo guionista
Robert Towne
, insatisfecho, decidió firmar como
P.H. Vazak
(ése era el nombre de su perro). El film fue nominado a un Oscar por mejor guion,
Towne
se arrepintió y el conflicto resultante empezó a sembrar de piedras el camino a
Smithee
. Desde entonces, antes de autorizar el uso de
Alan Smithee
el
Directors Guild
exige evidencias contantes y sonantes de que el trabajo de un realizador ha sido bastardeado por la productora. Y aun así, recomienda expresamente al director no hacer públicos sus motivos: callar ante la prensa. Pero todo se sabe al fin. Un caso reciente resulta tragicómicamente ilustrativo. Una superproducción precisamente intitulada
An Alan Smithee Film: Burn Hollywood Burn
(
Una película de Alan Smithee: Hollywood arde en llamas
) fue inicialmente encomendada a
Milcho Manchevski
, el director de Antes de la lluvia. Es la historia de un director debutante, humillado por los financistas, ¡y que no puede recurrir al seudónimo porque su verdadero nombre es
Alan Smithee
! Un tendal de conflictos alejaron a Manchevski de la producción. Lo relevó
Arthur Hiller
, el veterano director de
Love Story
. Tras una desastrosa serie de test screenings, el guionista
Joe Eszterhas
(
Bajos instintos
) decidió puentear al noble anciano y cortó 22 minutos de la cinta. El film fue presentado en el Mill Valley Festival el 29 de septiembre de 1997... como una película de
Alan Smithee
.
Guillermo Ravaschino
http://www.cineismo.com/temas/smithee.htm