JOHN STURGES
Nació el 3 de enero de 1911 en Oak Park. EE.UU. y se inició en el cine en 1932. Antiguo montador en los estudios de RKO, se unió a David O. Selznick como ayudante de producción y mas tarde como editor. Se dedicó a la dirección en la inmediata posguerra en la Fuerza Aérea del Ejército de los EE.UU. haciendo documentales, entre los cuales se incluye
Thunderbolt
(1947), en colaboración con el veterano director William Wyler.
Regresó a Hollywood como director y después de un incierto progreso, entre comedias sin demasiadas pretensiones y películas policíacas, encontró su camino dedicándose, a partir del 1953, al filón del western, que le dio el modo de imponer sus dotes de hábil narrador y que le no privó, en los mejores momentos, de ofrecer una vena de sutil ironía. Cuando en 1954 rodó
Bad Day al Black Rock
demostró su "mano izquierda" para trabajar con el cada vez mas difícil Spencer Tracy y consiguió una fenomenal interpretación de la legendaria estrella (y uno de los mejores trabajos de Lee Marvin, Robert Ryan y Anne Francis) y transformó una película de suspense rutinaria en un thriller fuerte tratando el tema, cada mes de mas actualidad, del racismo y la violencia. Sturges recibió su único nombramiento al Premio de la Academia para Bad Day at Black Rock y su carrera se encumbró cuando le querían contratar los mejores productores de Hollywood.
Gunfight at the O.K. Corral
(1957), que dirigió para el productor Hal Wallis, fue otro éxito. También lo fueron
The Old Mand and the Sea
(1958) y
The Last Train from Gun Hill
(1959), teniendo como protagonistas a Spencer Tracy, en la primera, y en la segunda a Kirk Douglas y Burt Lancaster en los gloriosos papeles de Doc Holliday y Wyatt Earp.
John Sturges se convirtió en su propio productor y dirigió
The Magnificient Seven
(1960), su película más conocida, una película de acción occidental a gran escala adaptado de la obra de Akira Kurosawa Los Siete Samurais (1954). Sturges dejó clara la indiscutible confirmación de su sobrio talento de narrador en imágenes. Según muchas críticas, fue algo más que un honesto artesano, y es cierto que no le faltó un gran sentido organizativo del espacio fílmico, sobre todo en las secuencias de acción.
En 1962 dirige
Sergeants 3
una divertida reconstrucción western de un pilar del cine de aventuras, Gunga Din, con Frank Sinatra y su clan, Dean Martín, Sammy Davis Jr, Peter Lawford
Convirtió a la mayoría de sus actores protagonistas (incluyendo a Steve McQueen, Charles Bronson, y James Coburn) en estrellas y generó el mayor éxito para un ema musical de Elmer Bernstein.
The Great Escape
(1963), un estelar thriller basado en la Segunda Guerra Mundial, fue la marca de agua de la carrera de Sturges. En la espectacular preparación y realización de la fuga de un campo de reclusión nazi utiliza una parte del reparto de The Magnificient Seven: James Coburn, Charles Bronson y, sobre todo, la revelación Steve McQueen.
Su siguiente película,
The Satan Bug
(1965), basada en un popular best-seller, no tuvo una buena acogida y falló por lo que pasó rápidamente a la televisión.
The Hallelujah Trail
(1965) demostró una sátira occidental incómoda e impopular a pesar de su elenco de gran prestigio. Una comedia centrada sobre una batalladora Lee Remick, señora de la Liga por la Templanza, que se incorpora con objetivos de sabotaje a una caravana con una carga de güisqui escoltada por la caballería ligera de Burt Lancaster.
Hour of the gun
(1967) fue una reinterpretación mas personal que profundizaba en los hechos ya narrados en Gunfight at the O.K. Corral.
Sus siguientes películas
Ice Station Zebra
(1968),
Marooned
(1969) y
Joe Kidd
(1972) tuvieron el reconocimiento de popular pero nunca con el entusiasmo logrado a comienzos de la década de los 60.
Marooned, que heredó como un proyecto que iba a dirigir Frank Capra, fue inicialmente un fracaso, hasta que la historia le hizo un favor por medio del Apollo XI y el primer paseo lunar de su tripulación.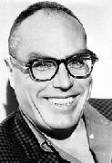 The eagle has landed
(1976) fue un regreso hacia la acción al estilo de The Great Escape: un intento de los alemanes de raptar a Winston Churchill durante la Segunda Guerra Mundial.
Una vez jubilado deja Hollywood a una generación joven de cineastas que apenas conocen su nombre. Su estilo era limpio, generalmente evitaba fantásticos trucos de cámara, pero sus composiciones eran invariablemente eficaces y evocadoras. Además, raras veces no logró extraer lo mejor de sus actores.
Falleció el 18 Agosto 1992, San Luis Obispo, USA.
Información extraída de
http://www.movies.it/
y
http://www.allmovie.com/
Traducido y adaptado por miles para
http://www.divxclasico.com/