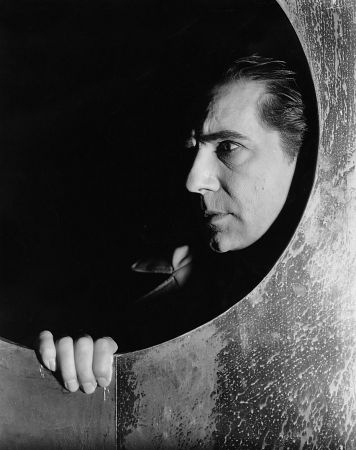 Página oficial
Wikipedia
Mystery Lugosi Photos
Fondos de pantalla
Bela Blasko nació el 20 de octubre de 1882 en Lugos (Hungría), en el seno de una familia acomodada. Su padre era banquero, aunque la muerte de éste cuando Bela tenía 12 años, provocó que el joven Lugosi se pusiera a trabajar como minero.
Poco después, comenzó a estudiar interpretación en la Academia de teatro de Budapest.
A los 19 años se convirtió en una estrella de la escena húngara, conocido como Arisztid Olt, y en 1915 debutó en el cine.

En esta época, Bela se involucró en el contexto histórico en que vivía su país. Participó en la 1ª Guerra Mundial y cuando la monarquía húngara fue derrocada se significó como uno de los principales abanderados de la izquierda, fundando el sindicato de actores.
En 1917 se había casado por primera vez con Ilona Szmik, de quién se divorciaría en 1920.

Cuando el régimen comunista se derrumbó, Lugosi se exilió a Alemania y posteriormente a los Estados Unidos.
Sin dominar el inglés y con un prominente acento húngaro, Bela consiguió debutar en Hollywood con la película "The silent comand" (1923).
Tras un período de inestabilidad Lugosi consiguió en 1927 hacerse con el papel de Drácula en la obra teatral del mismo título que se iba a representar en Broadway. La función resultaría todo un éxito y Bela se afianzaría como actor cinematográfico, aunque por ahora sin alcanzar demasiado renombre.
Su boda con la millonaria Beatrice Week, que duró escaso tiempo, debido a su affaire con la estrella del cine mudo Clara Bow, le supuso una publicidad extra.
La gran oportunidad de Bela Lugosi llegaría cuando otro mito del cine de terror, Lon Chaney, no pudo encarnar por motivos de salud al conde Drácula en el film que estaba preparando la Universal. Tod Browning, su director, recomendó a Lugosi y finalmente el húngaro aceptó el papel que le convertiría en una estrella.
Poco después, rechazó intervenir en Frankenstein aludiendo a la escasez de diálogo y el exceso de maquillaje. El papel sería para Boris Karloff, su rival en el estrellato del cine fantástico y de terror en los años 30 y 40.
En 1933, Bela contraería matrimonio por tercera vez con Lillian Arch, su esposa hasta 1953.
Durante toda la década de los 30 y la primera mitad de los años 40, Bela Lugosi no cesaría de trabajar en multitud de películas del género.
"El doble asesinato de la calle Morgue" (1932) de Robert Florey, "La isla de las almas perdidas" (1932) de Erle C. Kenton, "Satanás" (1934) de Edgar G. Ulmer, "El cuervo" (1935) de Louis Friedlander, "La sombra de Frankenstein" (1939) de Rowland V. Lee o "Asesinato por televisión" (1939) de Clifford Staniforth son algunos de los títulos más destacados de Bela en su época de esplendor.
También en este período apareció brevemente en la comedia de Ernst Lubitsch, "Ninotchka" (1939).
Los años 40 supusieron supusieron su declive, interpretando papeles en películas de ser B, generalmente de un tono paródico.
Además, su vida se inestabilizó ya que Bela asumió en la realidad la personalidad de vampiro que le había hecho famoso y se convirtió en un adicto a las drogas.
"Frankenstein y el hombre lobo" (1943), dirigida por Roy William Neill es uno de sus títulos más populares en este decenio.
Olvidado por los grandes estudios e inmerso en el mundo de los estupefacientes, Bela Lugosi pudo regresar a la actuación gracias al requerimiento de un extraño fan llamado Ed Wood Jr., considerado como el peor director de la historia del cine.
Bajo las órdenes de Wood aparecería en tres películas de serie Z, todas ellas de muy escasa entidad, "Glenn or Glenda?" (1953), "Bride of the monster" (1955) y "Plan 9 from outer space" (1956).
En 1955, Bela se casaría por cuarta vez con Hope Lininger, a quien dejaría viuda el 16 de agosto de 1956, cuando Lugosi murió de un ataque al corazón en Los Ángeles.
Tenía 73 años.
'
A Régiséggyüjtö
1917
'

Dirigida por: Alfréd Deésy
Reparto: Norbert Dán, Bela Lugosi, Camilla von Hollay

---

Comentario:



IMDb
Húngaro
'
Ezredes, Az
1917
'

Dirigida por: Michael Curtiz
Reparto: Géza Boross, Janka Csatay, Sándor Góth, Árpád id. Latabár, Claire Lotto

---

Comentario:



IMDb
Húngaro
'
Leoni Leo
1917
'

Dirigida por: Alfréd Deésy
Reparto: Bela Lugosi, Lilla Bársony, Róbert Fiáth, Lajos Gellért, Annie Góth

---

Comentario:



IMDb
Húngaro
'
Nászdal
1917
'

Dirigida por: Alfréd Deésy
Reparto: Bela Lugosi, Károly Lajthay

---

Comentario:



IMDb
Húngaro
'
99
1918
'

Director: Michael Curtiz
Reparto: Jenö Balassa, Gyula Gál, Claire Lotto, Bela Lugosi, Lajos Réthey, Oly Spolarits, Zoltán Szerémy

---

Comentario:



imdb
Húngaro
'
Casanova
1918
'

Dirigida por Alfred Deésy
Reparto: Peter Andorffy, Viktor Costa, Norbert Dán, Bela Lugosi, Tessza Fodor

---

Comentario:



imdb
Húngaro
'
Lili
1918
'

Dirigida por Cornelious Hintner
Reparto: Ida Andorffy, Sandor Goth, Bela Lugosi, Claire Lotto

---

Comentario:



imdb
Húngaro
'
Élet királya, Az
1918
'

Dirigida por: Alfréd Deésy
Reparto: Norbert Dán, Bela Lugosi, Lajos Gellért, Annie Góth, Ella Hollán

---

Comentario:



IMDb
Húngaro
'
Lulu
1917
'

Reparto: Bela Lugosi, Klara Peterdy, Norbert Dán

---

Comentario:



imdb
Húngaro
'
Küzdelem a létért
1918
'

Dirigida por: Alfréd Deésy
Reparto: Annie Góth, Péter Konrády, Ila Lóth, Bela Lugosi, Klára Peterdy

---

Comentario:



IMDb
Húngaro
'
Álarcosbál
1918
'

Dirigida por: Alfréd Deésy
Reparto: Norbert Dán, Róbert Fiáth, Lajos Gellért, Annie Góth, Richard Kornai

---

Comentario:



IMDb
Húngaro
'
Tavaszi vihar
1918
'

Dirigida por: Alfréd Deésy
Reparto: Bela Lugosi

---

Comentario:



IMDb
Húngaro
'
Hypnose
1920
'

Dirigida por Richard Eichberg
Reparto: Lee Parry, Karl Halden, Bela Lugosi

---

Comentario:



imdb
Alemán
'
Teufelsanbeter, Die
1920
'

Dirigida por: Marie Luise Droop
Reparto: Carl de Vogt, Meinhart Maur , Tronier Funder, Bela Lugosi, Fred Immler

---

Comentario:



IMDb
Alemán
'
Frau im Delphin, oder 30 Tage auf dem Meeresgrund, Die
1920
'

Dirigida por: Artur Kiekebusch-Brenken
Reparto: Emilie Sannom, Magnus Stifter, Bela Lugosi, Ernst Pittschau, Jacques Wandryck

---

Comentario:



IMDb
Alemán
'
Januskopf, Der
1920
107'

Dirigida por: F.W. Murnau
Reparto: Conrad Veidt, Magnus Stifter, Margarete Schlegel, Willy Kaiser-Heyl, Bela Lugosi

---

Comentario:
Una legendaria "película perdida". Primera adatación del "Misterioso caso del Dr. Jeckyll y Mr. Hyde".


IMDb
Alemán
'
Lederstrumpf, 1. Teil: Der Wildtöter und Chingachgook
1920
'

Dirigida por: Arthur Wellin
Reparto: Emil Mamelo, Herta Heden, Bela Lugosi, Gottfried Kraus, Edward Eyseneck

---

Comentario:



IMDb
Alemán
'
Todeskarawane, Die
1920
'

Dirigida por: Josef Stein
Reparto: Carl de Vogt, Erwin Baron, Bela Lugosi

---

Comentario:



imdb
Alemán
'
Lederstrumpf, 2. Teil: Der Letzte der Mohikaner
1920
'

Dirigida por: Arthur Wellin
Reparto: Edward Eyseneck, Herta Heden, Gottfried Kraus, Bela Lugosi, Emil Mamelok (Deerslayer)

---

Comentario:



IMDb
Alemán
'
Tanz auf dem Vulkan - 2. Der Tod des Großfürsten, Der
1920
'

Dirigida por: Richard Eichberg
Reparto: Lee Parry, Violetta Napierska, Robert Scholz, Bela Lugosi, Gustav Birkholz

---

Comentario:



IMDb
Alemán
'
Tanz auf dem Vulkan - 1. Sybil Young, Der
1920
'

Dirigida por: Richard Eichberg
Reparto: Lee Parry, Violetta Napierska, Robert Scholz, Bela Lugosi (Andrew Fleurot), Gustav Birkholz

---

Comentario:
French aristocrat falls for Russian nightclub singer, gets involved in underground Russian revolutionary movement.


IMDb
Alemán
'
Fluch der Menschheit - 1. Die Tochter der Arbeit, Der
1920
'

Dirigida por: Richard Eichberg
Reparto: Lee Parry, Violetta Napierska, Robert Scholz, Gustav Birkholz, Willy Kaiser-Heyl

---

Comentario:



IMDb
Alemán
'
Fluch der Menschheit - 2. Im Rausche der Milliarden, Der
1920
'

Dirigida por: Richard Eichberg
Reparto: Lee Parry, Violetta Napierska, Felix Hecht, Robert Scholz, Willy Kaiser-Heyl

---

Comentario:



IMDb
Alemán
'
Auf den Trümmern des Paradieses
1920
'

Dirigida por: Josef Stein
Reparto: Carl de Vogt, Meinhart Maur, Gustav Kirchberg, Dora Gerson (Dschana Ardschir Mirza), Claire Lotto

---

Comentario:



IMDb
Alemán
'
Nat Pinkerton
1921
'

Dirigida por: Wolfgang Neff
Reparto: Bela Lugosi (Gang Leader)

---

Comentario:



IMDb
Alemán
'
Johann Hopkins, der Dritte
1921
'

Dirigida por: Wolfgang Neff
Reparto: Bela Lugosi

---

Comentario:



IMDb
Alemán
'
Ihre Hoheit die Tänzerin
1922
'

Dirigida por:
Reparto: Lee Parry, Robert Scholz, Violetta Napierska, Bela Lugosi

---

Comentario:



IMDb
Alemán